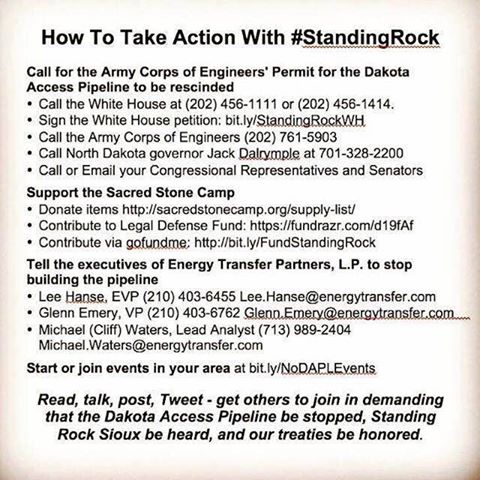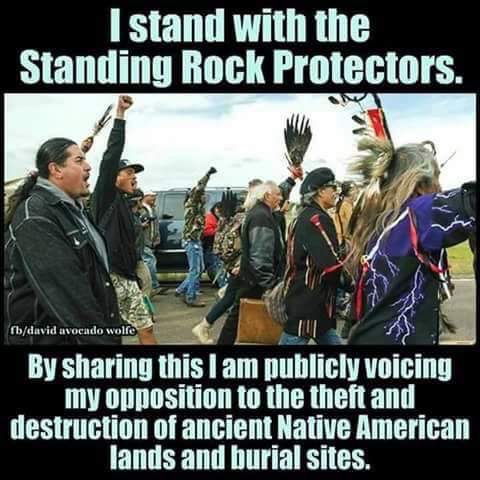 Q U E E N
"White Man"
I'm a simple man
With a simple name
From this soil my people came
In this soil remain
Oh yeah. . .
And we made us our shoes
And we trod soft on the land
But the immigrant built roads
On our blood and sand
Oh yeah. . .
White man, white man
Don't you see the light behind your blackened skies
White man, white man
You took away sight to blind my simple eyes
White man, white man
Where you gonna hide
From the hell you've made?
Oh the red man knows war
With his hands and his knives
On the Bible you swore
Fought your battle with lies
Oh yeah. . .
Leave my body in shame
Leave my soul in disgrace
But by every God's name
Say your prayers for your race
White man, white man
Our country was green and all our rivers wide
White man, white man
You came with a gun and soon our children died
White man, white man
Don't you give a light for the blood you've shed?
What is left of your dream?
Just the words on your stone
A man who learned how to teach
Then forget how to learn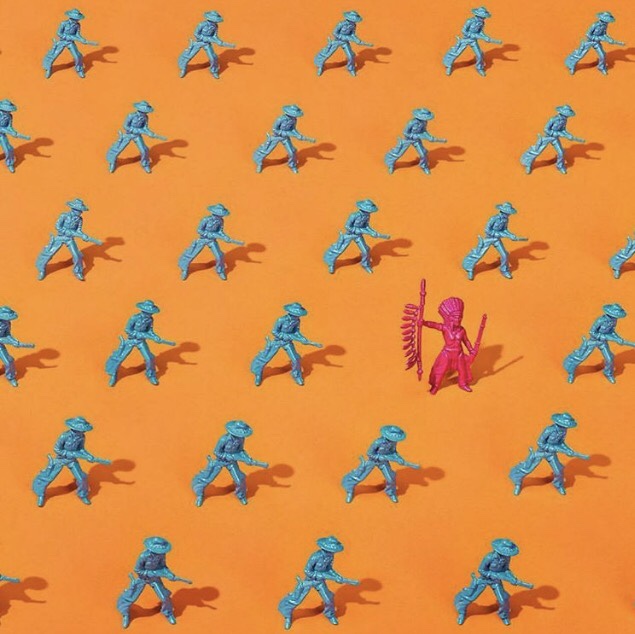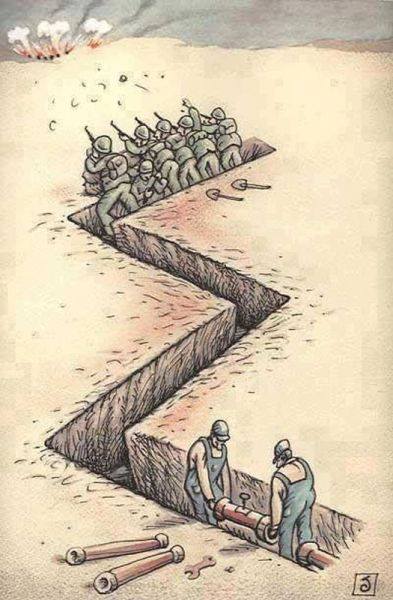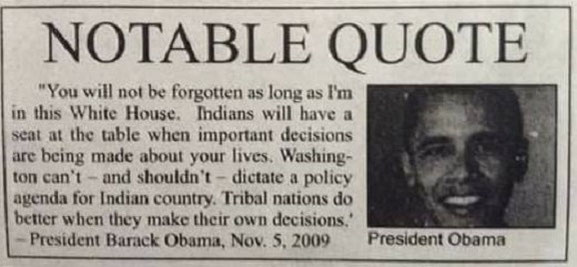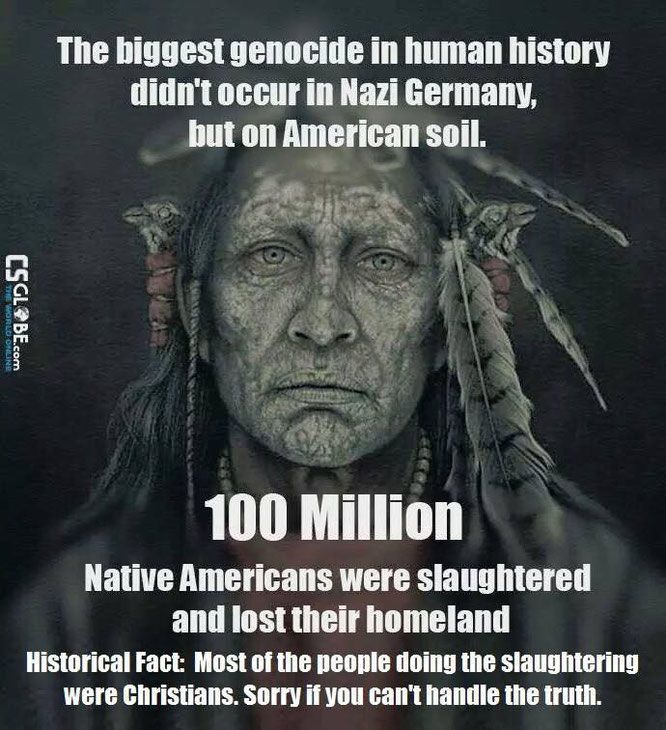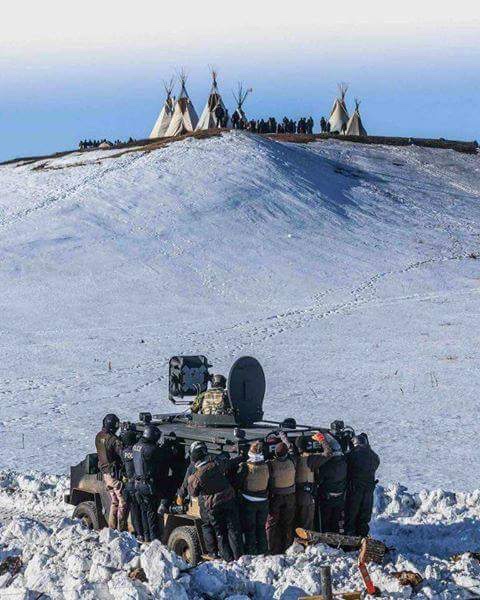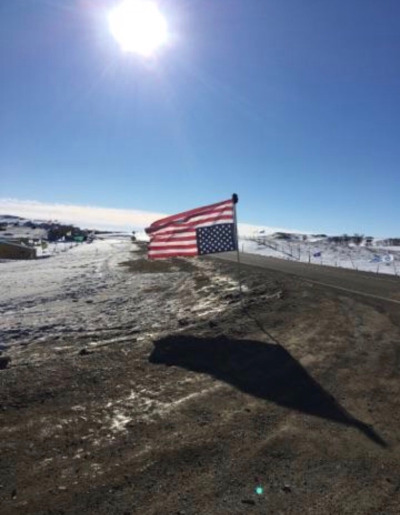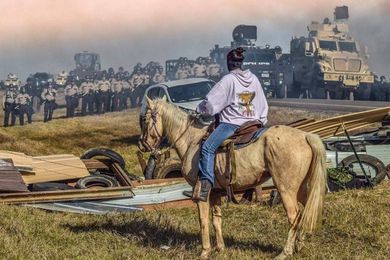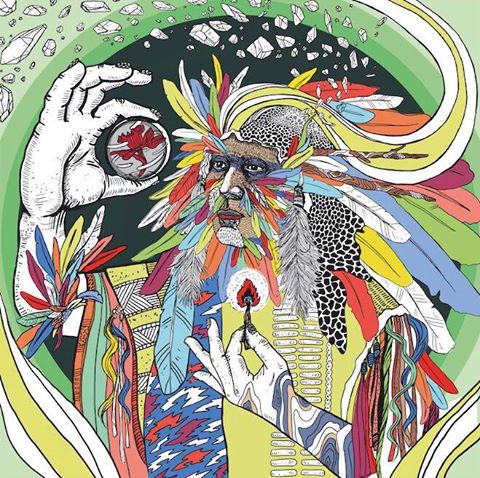 Unterstützt die Sioux in Standing Rock beim Schutz der Wasserreserven & der Erde
In Standing Rock demonstrieren Sioux Indianer friedlich um den Schutz des Wassers und der heiligen Erde vor dem Raubbau und einer weiteren Vertreibung aus dem Reservat in Standing Rock. Die US-Regierung und die Konzerne wollen die Wasserreserven auf diesem Gebiet anzapfen und eine Pipeline durch 4 US-Bundesstaaten errichten. Standing Rock ist ein heiliger Ort für die Indianer.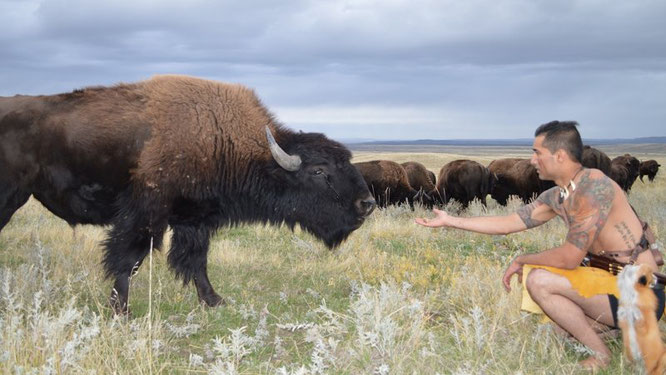 Indianer sind die Hüter der Erde und die Bewahrer der indianischen Bräuche, des universellen Wissens um Pflanen, Tiere, Mutter Erde und tiefgreifende spirituelle Dimensionen. Mit dem Verdrängen der Indianer für einen weiteren kapitalistischen Siegeszug stärken wir nicht nur die globale und politische Macht der Superkonzerne sondern berauben uns selbst um einen unwiederbringlichen Teil des indianischen Lebens und Wissens.
Die Indianer glauben, dass die Erde nur von unseren Kindern und Kindeskindern geliehen ist. Ein Glauben den ich aus tiefstem Herzen teile. Lasst uns deshalb Seite an Seite mit den Sioux in Standing Rock für den Erhalt und Schutz des indianischen Reservats kämpfen und die Dakota Access Pipeline stoppen!
Lasst uns den Sioux helfen indem wir:
1. Den Gouverneur von North Dakota Jack Dalrymple unter der Rufnummer +1 701-328-2200 anrufen und ihm eine Nachricht hinterlassen warum wir die Indianer unterstützen und die Dakota Access Pipeline (DAPL) stoppen möchten.

2. Die Petition des Weißen Hauses unterzeichnen um die Dakota Access Pipeline (DAPL): https://petitions.whitehouse.gov/petition/stop-construction-dakota-access-pipeline-which-endangers-water-supply-native-american-reservations 
3. Spendet um die Standing Rock Sioux finanziell in ihrem Kampf gegen die Übermacht von Politik und Megakonzernen zu unterstützen: http://standingrock.org/news/standing-rock-sioux-tribe--dakota-access-pipeline-donation-fund/

4. Oder erwerbt indianische Totems aus the Sacred Stone Camps von den Sioux: http://sacredstonecamp.org/supply-list/

5. Ruft im Weißen Haus an +1 202 456 1111 oder +1 202 456 1414 und fordert President Obama auf die bewaffneten Army Corps aus Standing Rock abzuziehen und die Dakota Access Pipeline zu stoppen.
6. Unterzeichnet andere Petitionen die President Obama auffordern die Dakota Access Pipeline zu stoppen. Zum Beispiel: https://act.credoaction.com/sign/NoDAPL

7. Ruft die Verantwortlichen in den Firmen an die die Pipeline errichten wollen und fordert sie auf das heilige Land der Sioux zu ehren und zu schützen und vom Bau der Pipeline abzusehen: 
- Lee Hanse Executive Vice President Energy Transfer Partners, L.P. 800 E Sonterra Blvd #400 San Antonio, Texas 78258 Telephone: +1 210 403-6455 Lee.Hanse@energytransfer.com

- Glenn Emery Vice President Energy Transfer Partners, L.P. 800 E Sonterra Blvd #400 San Antonio, Texas 78258 Telephone: +1 210 403-6762 Glenn.Emery@energytransfer.com
- Michael (Cliff) Waters Lead Analyst Energy Transfer Partners, L.P. 1300 Main St. Houston, Texas 77002 Telephone: (713) 989-2404 Michael.Waters@energytransfer.comhttp://thefreethoughtproject.com/10-protest-dakota-access-pipeline/#YZhQwg7YQ1YO0aDV.99
8. Redet mit den Lehrern an den Schulen eurer Kinder, dass ihr mit den Kindern über dieses Thema des Schutzes der Natur und der Erde und die Indianische Kultur sprechen und die Kinder über den Kampf der Indianer in Standing Rock reden möchtet und dann geht in die Schulen und unterstützt die Sioux damit ganz aktiv! Bezieht die Kinder ein. Wir hüten die Welt für sie! 
The most effective means of showing support for this cause is to actively participate in protecting this sacred land. Anyone who is able to travel to the peaceful encampments is encouraged to do so. For those unable to make the journey to North Dakota, please utilize the alternate methods provided to show your support for the Standing Rock Sioux who have united over 100 tribes from across the U.S. Please join this effort to stop this pipeline, which desecrates sacred lands and has serious potential to damage or destroy the Standing Rock reservations lifeblood – its water.
Be the change you wish to see in the world -Mahatma Gandhi-
https://www.change.org/p/unterst%C3%BCtzt-die-sioux-in-standing-rock-beim-schutz-der-wasserreserven-der-erde?recruiter=386715068&utm_source=share_petition&utm_medium=facebook&utm_campaign=share_facebook_responsive&utm_term=mob-xs-no_src-no_msg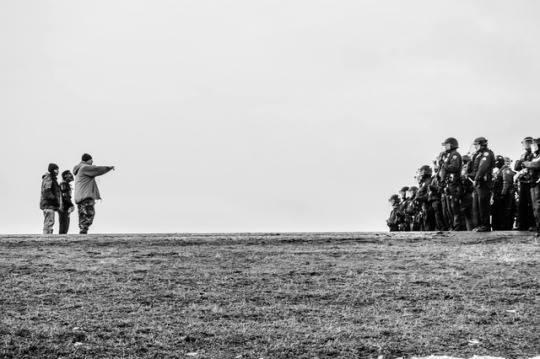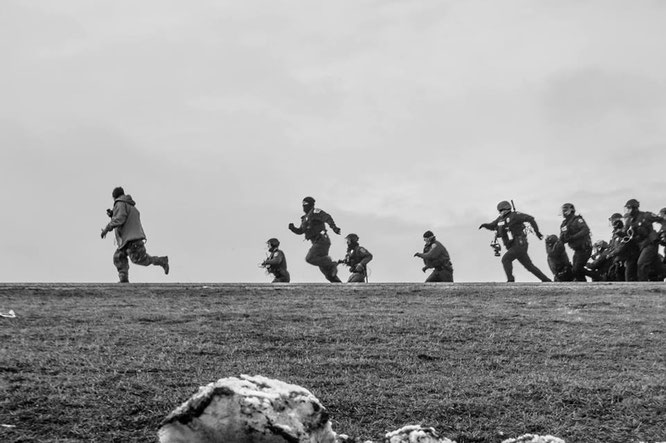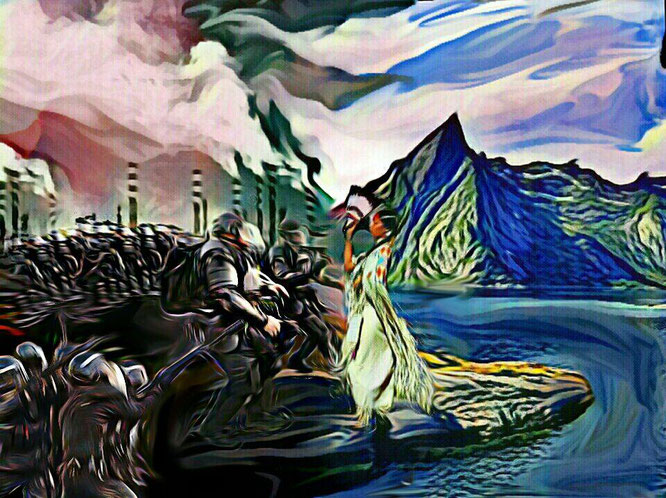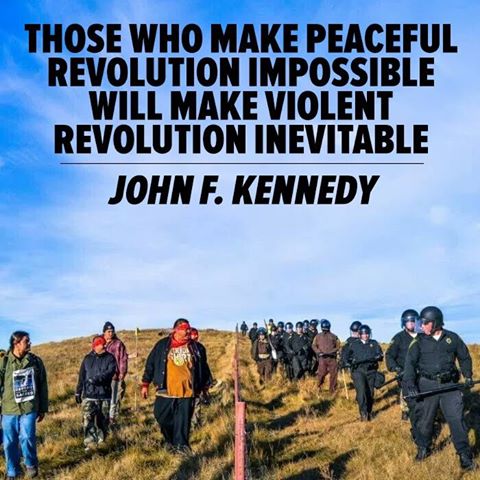 Just in case anyone is caught up in mainstream media coverage of Standing Rock, the Oceti Sakowin camp was being cleaned responsibly and the burning of the structures was a respectful akcnowledgement of the sacredness of the camp. The eviction is taking place right now, with legal observers being arrested by police in full riot gear.
This morning, Indigenous Rising spoke with Darren Begay who has been managing the Navajo style structures at Oceti. He told us that as This forced evacuation grew nearer, he consulted with elders from his ancestral lands and they all agreed that based on the behavior of the law enforcement in the past, who during raids have broken and thrown away sacred items and who have shown disregard and horrible disrespect to tipis and sacred dwellings, it is best to burn these scared structures instead of having them desecrated by Morton County and North Dakota law enforcement.
Lighting our dwellings on fire is a sign of respect for them. It's a sign of respect for the purpose they have served over these past few months. They have been containers for prayer and for brining people together. By lighting them on fire we send their smoke up like prayers. By lighting them on fire we ensure these structures go out in dignity.
Indigenous Rising Media
NO SPIRITUAL SURRENDER
There was a reported 8-10 arrests yesterday at Oceti. What mainstream media failed to recognize is that a vast majority if not ALL of those arrested were independent & grassroots media taking a stand for the camp, and refusing to allow corporation controlled law enforcement to seize the camp with no documentation. Exercising the 1st amendment, and defending the liberties of this country, this is now a war of information as well as a spiritual war.
There is still independent media embedded inside the camp, and they will continue to defend the right to document for treaty rights and the rights of our Native American brothers and sisters.
WE ARE THE MEDIA NOW.
-Redhawk
https://standingrockstories.tumblr.com/
FLYER ZUR DEMO VOM 1.4.2017 IN BASEL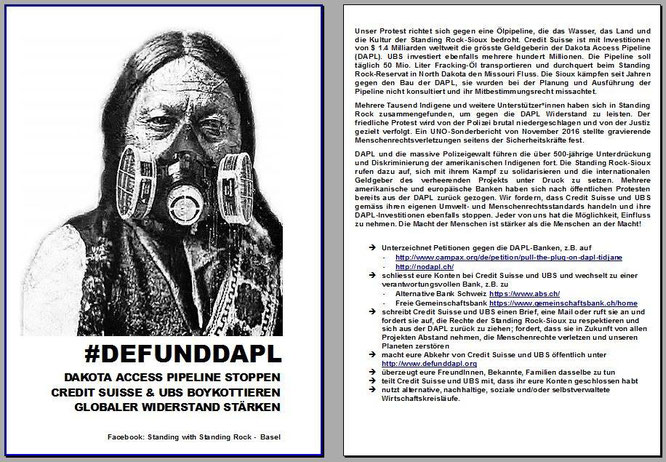 Counterinsurgency on the Reservation: A return to Standing Rock - Part 2
Thanks to a generous grant from the Fund for Investigative Journalism was able to return to the Dakotas as part of his ongoing project on the impact of police militarization. Here's a short travelogue of what he heard, saw, and did..
Read Part 1 here 
https://www.muckrock.com/news/archives/2017/sep/29/return-to-standing-rock-part-2/
DivestTheGlobe in Basel Switzerland - Blocking Credit Suisse with a die in - 24.10.2017
Standing with Standing Rock - Basel 
#DivestTheGlobe in Basel, Switzerland. Blocking Credit Suisse ...
#DivestTheGlobe in Basel, Switzerland. Blocking Credit Suisse with a "die-in". In solidarity with indigenous resistance at #MazaskaTalks